< Products
---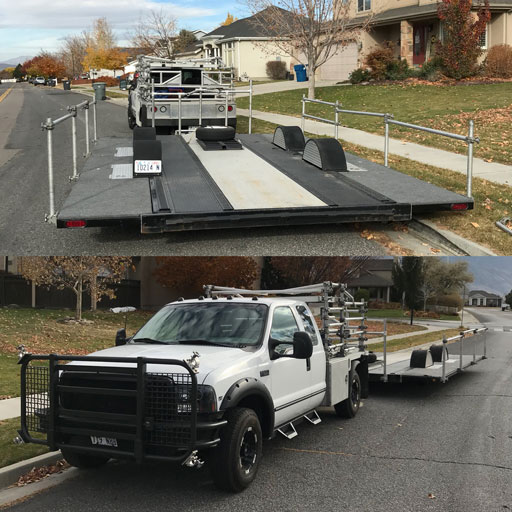 Custom Insert Car and Process Trailer
Day Rate: $1,500.00
Quantity Stocked: 1

Our insert car and process trailer is the perfect setup for filming moving vehicles. Your actors can ride in style without needing to keep their eyes on the road. There's plenty of room around the vehicle for mounting lights and cameras. The cab of the insert car has mounting points for monitors and other equipment.

Variable Day Rate:
The rate for this item is based upon a driver's rate of $50 an hour for a guaranteed 10 hours (portal to portal). If more than 10 hours are clocked by the driver, an additional fee will be charged using the following:
10 - 12 hours: $50 an hour
12 - 15 hours: $75 an hour (time and half)
15+ hours: $100 an hour (double time)

Ask about our student rates on this item!
1x Custom Ford F250 Truck with custom deck and pipe railing
2x Mitchell Leveling Camera Heads
1x Deck Plate for Mitchell Mounts
1x Process Trailer
Tie Downs
12x 1" Ratchet Straps
24x E-Track Rope Tie Offs
12x E-Track D Ring Tie Offs
8x 2" Tie Down Ratchet Straps with Hook and E-Track Connectors
4x Axle Straps
1 1/2" Pipe
2x 14 ft
2x 8 ft
2x 7 ft
2x 6 ft
2x 5 ft
2x 4 ft
2x 3 ft
12x 1 1/2" Pipe - Various Lengths 1 1/2" Speed Rail Fittings
5x Split Cross
11x Swivel
1x Elbow
3x Cross
2 Offset Cross
2x Side Outlet Elbow
1x 4 Way Corner

Insert Car:
Triton V10 Gas Engine
Custom Airbag Suspension
Aluminum Bridge Plate
Drop Down Grille Guard (for generators)

Process Trailer:
20 feet long x 14 feet wide
Useable width between wheels is 80"
Spread axle allows easy access to vehicle
When loaded, trailer height is 12" above road