< Products
---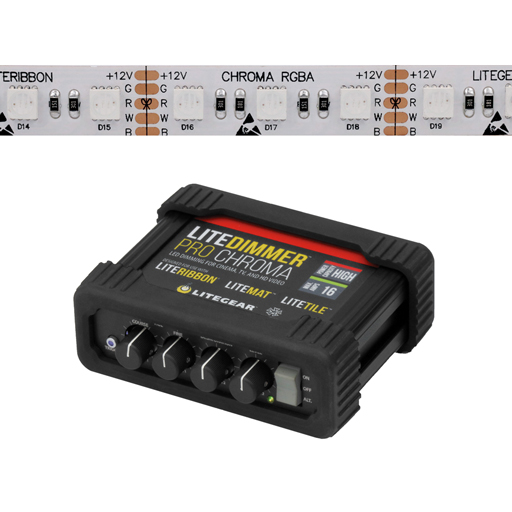 LiteGear Chroma-Correct LED LiteRibbon 72-X1 24" RGB Light
Day Rate: $22.00
Quantity Stocked: 1

This is the 72-X1 LiteGear Chroma-Correct LED LiteRibbon RGB-Tungsten and RGB-Daylite. Chroma Correct is a proprietary LiteRibbon designed specifically for those with an eye on blending color with high-CRI white light. This custom 4-in-1 chipset is populated with RGB emitters and a color-correct Tungsten or Daylite white emitter. These ribbons are 1 LED wide at a density of 72 LEDs per meter.

D-Tap adapter cable for powering off of a battery is included.

Cutting to size: This LiteRibbon can be cut down to meet your exact needs and we have additional wiring that can be soldered to the cut pieces. Cutting the LiteRibbon means you buy the whole thing, not just the cut pieces.
1x LiteRibbon Chroma-Correct LED RGB-Tungsten 24"
1x LiteRibbon Chroma-Correct LED RGB-Daylite 24"
1x LiteDimmer Pro Chroma
1x LiteRibbon Extension Cable
1x Power Supply
1x Power Cord
1x D-Tap Power Adapter Cable
Size
24" x 0.39"
Color Temperature
3000 K and RGB
6000 K and RGB
Power Consumption
115W
Number of LEDs
360
Dimming
0% - 100%
CRI
92 (White)