< Products
---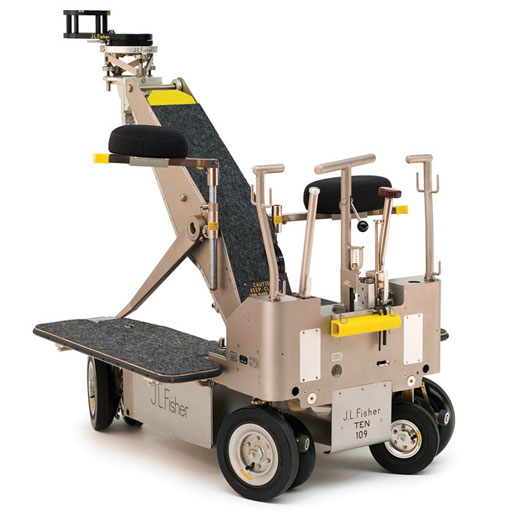 Fisher 10 Dolly
Day Rate: $220.00
Quantity Stocked: 2

The Fisher 10 Dolly is the Cadillac of film dollies. The hydraulic beam is powerful enough to lift the camera and two operators. Includes an assortment of accessories for getting high and low angle shots as well as boards for standing on. For more information on included accessories visit: Fisher 10 Dolly.

All camera mounting platforms are Mitchell bases. A Mitchell to 100mm ball adapter plate is included.

Please Note: A truck or trailer with a lift gate or ramp is required for transporting this dolly. A pickup truck, van etc. will not be allowed as a valid transportation vehicle. UFP can do deliveries/pickups for a fee. If these options are not available, our Fisher 11 Dolly can be transported via truck or van.
1x Model 10 Dolly
1x Multi-Position Level Head
1x Hand Screw
1x Castle Nut Wrench
1x Mitchell Base to 100mm Ball Adapter Plate
1x Large Washer for Ball Adapter Plate
1x Camera Riser, 6"
1x Camera Riser, 12"
1x Camera Offset, 10"
1x Camera Offset, 24"
1x Rotating Offset
1x Quick Change Low-Level Head
1x 90° Angle Plate
2x Front Boards
1x Front Board Bridge
2x High Side Boards (Left and Right)
2x Low Side Boards (Left and Right)
2x Diving Boards (Left and Right)
1x Beam Step Standing Platform
1x Battery Rack
2x Seats (Small and Large)
1x 90° Seat Offset
1x 45° Seat Offset
1x Adjustable Seat Riser
2x Push Posts
1x Knee Bumper
2x Front Pins
2x Allen Wrench
2x Carry Handles
1x Power Cord
1x Operating Instructions
1x Parts Caddie
| | |
| --- | --- |
| Lift Capacity | 500 lb |
| Length | 55.5 inches |
| Width | 26.5 inches |
| Height (operating) | 38.625 inches |
| Height (folded) | 25 inches |
| Vertical Beam Travel | 46.875 inches |
| Max Head Height (no risers) | 62.5 inches |
| Minimum Turn Radius (round) | 22 inches |
| Minimum Turn Radius (conventional) | 44 inches |
| Lifts Per System Charge | ~7 |
| Carrying Weight | 420 lb |
| Maximum Weight Capacity | 1200 lb |